Aluminum Fences Fenton MO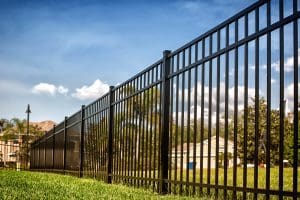 Aluminum Fences Installed in Fenton
Aluminum Fences are a great option for customers seeking a fence solution that matches the look of a wrought iron fence with the expensive costs of wrought iron. Aluminum fencing from Fenton Fence & Siding Contractors is made from high quality aluminum material that is powder coated to provide added protection against the weather and unpredictable Missouri temperatures.
Aluminum Fences do not attract pests, are a low-maintenance fencing product, are virtually unaffected by the weather, and provide a great fencing solution for customers seeking to keep children and pets safe.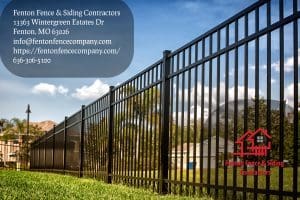 Black Aluminum Fence Company Sappington, Crestwood, Valley Park
For high quality aluminum fences in Missouri, customers know to call Fenton Fence & Siding Contractors. Our experienced installers are standing by to serve you, and we have built aluminum fences, vinyl fencing, cedar fences and more all over the greater St. Louis area.
If you'd like to work with a local, reliable fence contractor with a family owned and operated small business, please give our friendly pros a call at 636-306-5100
Quotes are always free - thanks for your business!