Wrought Iron Fence Contractor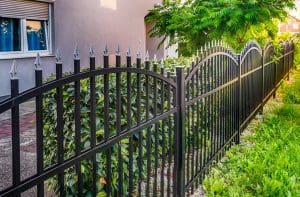 Wrought Iron Fence Installer
Wrought Iron Fencing is a premium fencing product installed by Fenton Fence & Siding Contractors. Wrought Iron is a great option for customers seeking a fencing solution that adds both security and beauty to their landscape. Our wrought iron fences are manufactured according the very highest standards of quality. All our iron fences are powder coated and treated against the weather. Your new wrought iron fence will last a lifetime!
Elegant Iron Fences in Missouri
The sleek, elegant look of a wrought iron fence is the reason many people request wrought iron for their property. A wrought iron fence is a great fencing solution for both residential and commercial property owners. Wrought iron is a great fencing option for businesses, county or city parks, athletic facilities, schools, public transportation hubs, and more.
Whether you need residential fencing or commercial fencing, wrought iron may be the material you'd like to use.
Wrought iron fencing is a more expensive fencing product. You do, however, get what you pay for. A wrought iron fence will still be standing long after our lives are over.
If you're looking for a fence that has the look of wrought iron but is more affordable, you might also be interested in an aluminum fence.
Regardless of the style you choose, Fenton Fence & Siding Contractors would love to be your fence installer! Give us a call for a Free Quote on a new fence installation, fence repair, fence replacement, or siding installation at 636-306-5100