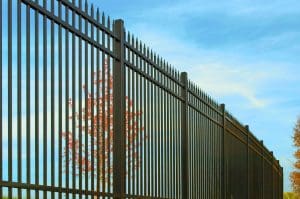 Commercial Security Fences Fenton, Creve Coeur, Valley Park
Security Fencing is an important part of keeping your property safe. Steel Security fences are a great option for commercial fencing clients or residential clients seeking a high security fence that is impact resistant, weather treated, and will last a lifetime.
Our steel security fences are made from the highest quality reinforced steel on the market. When we install your new steel fence for you, you will be amazed at the quality and attractive style. A high steel security fence will create a high security barrier for your property that will add value and security.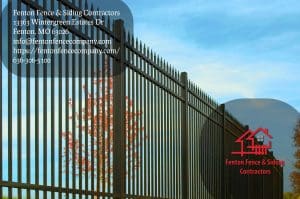 Steel Fences Installed in Missouri
When you hire Fenton Fence & Siding Contractors to build your new security fencing in Missouri, you're hiring the best Fence Contractor in Fenton. We are a locally owned, family operated company that takes pride in providing the very highest quality fence installations available.
Our experienced fence pros are standing by to speak with you about your project today, and we are happy to provide a free quote on all our fencing services, from Security Gates to Fence installations to Vinyl Siding.
If we can help you with service today, please contact our fence contractor. Call 636-306-5100