Security Gate Installation Fenton, Ballwin, Chesterfield
Do you have a driveway or commercial property you'd like to secure with a motorized security gate? Are you looking for gate repair? Do you need help putting up a new remote controlled driveway gate or carport gate? If you'd like help installing your new vehicle gate, or if you'd like to investigate all the options in motorized gates that area available today, give us a call for a Free Consultation at 636-306-5100
Security gates add value to your property by providing your with an extra layer of security. Security gates can be coupled with a video monitoring system, and we can wire your security gate with an intercom so that you can closely monitor and approve (or deny) access to those whom you choose.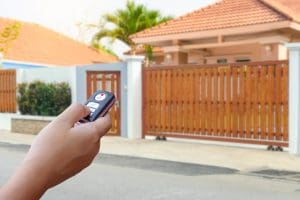 Steel Security Gates
Our security gates and steel security fences are built from reinforced steel that can stand up to extreme impact. We have a variety of options available, from heavy duty steel to lighter aluminum or even chain link. Our security gates are ideal for either residential or commercial application. Car dealerships, mini storages, parks, government offices and more benefit from professionally installed security gating.
If you'd like to get a quote on a security gate or a new dog run fence, or to see all the different options in security gates that are available today, please give us a call at 636-306-5100