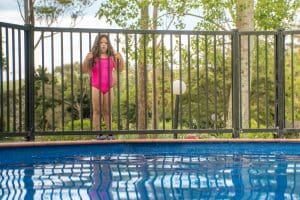 If you have a swimming pool, then you already know most cities and provinces require a swimming pool fence be installed in order to keep children and animals safe. Fenton Fence & Siding Contractors are experienced Fence Contractors who have installed swimming pool fencing all over Missouri, and we would love to provide you with a Free Estimate on a Swimming Pool Fence installation today!
We have variety of options available for swimming pool fencing in Fenton. Our most popular option is Aluminum Fencing, though some customers prefer Wrought Iron or Cedar Privacy Fencing. Regardless of the material you choose for your pool fence, rest assured it will be install according to all local safety codes and ordinances. If you'd like a removable swimming pool fence, we can handle that as well.
Pool Safety Fence Installed
Your safety fence is an important aspect of securing your pool. You can't always have eyes everywhere. A sturdy, tall safety fence will keep children and pets away from your pool where it is dangerous to be unsupervised.
If you'd like to speak with a local Fence Contractor in Fenton about getting a swimming pool fence installed on your property, contact us for a Free Quote today at 636-306-5100
Thank you for your business and for putting your confidence in Fenton Fence & Siding Contractors.