Fence Repair, Gate Repair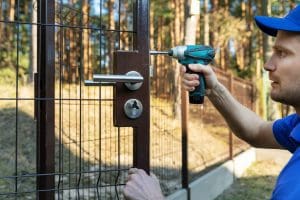 Fences & Gates Repaired in Missouri
Does your fence need a little TLC? If your gate is coming off the hinges or your fence is falling down, give our friendly Fence Contractors a call at 636-306-5100
If you'd like your fence repaired properly, it's best to use a Fence Contractor as opposed to a handyman. Our experienced pros spend their days building fences, and they only build fences. We will make quick work of your fence repair or gate repair, and we stand by our work. If there are any problems with our repair, we will make it right.
Old fences can be finicky and tricky to work with. If you need a fence repair or gate repaired, or security gate installed in Missouri, contact us if you'd like to save yourself a hassle.
Call for a Free Quote, and we thank you for your business!