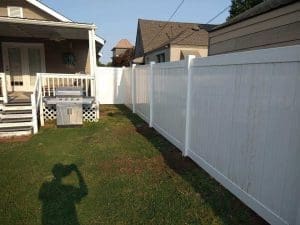 Vinyl Fencing Installers Ballwin, Town and Country, Fenton
Are you in the market for a new Vinyl Fence in Fenton or the surrounding areas? Vinyl Fences are a great option for customers seeking a privacy fence that's a low maintenance, easy to clean option. Unlike wooden privacy fences, vinyl fencing is unaffected by the harmful affects of UV light, will not attract pests, and cleanup is a snap! Vinyl fences will absorb a green color over time from cutting your grass, but all you have to do to make that vinyl fence look like new again is spray it with a water hose.
Vinyl Fencing is a very popular option for customers in Fenton, Ballwin, Manchester, Valley Park, Murphy, Sappington, Sunset Hills and the surrounding areas. Whether you're looking for a vinyl fence for around your swimming pool, back yard, or if you're looking for a good fencing option to keep children and pets safe vinyl is a great option.
Our PVC composite fences come with a 50 year material warranty. This will likely be the last fence you need to purchase for your property during your lifetime. All fences are installed according to our high standards of quality
PVC Privacy Fences Ballwin, Manchester, Eureka
Vinyl Fencing is a great option for customers seeking a permanent fencing solution that will last a lifetime. Our vinyl fencing comes with a 50 year expected life, and at Fenton Fence & Siding Contractors we stand by our work.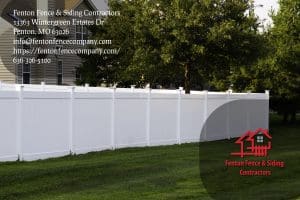 White Vinyl Fences Installed in Fenton
Our friendly Fence Contractors have years of experience building fences in Missouri. We are highly skilled fence craftsmen who use only the highest quality materials on the market, and we treat every project with the utmost care and respect. At Fenton Fence & Siding Contractors, we understand the value you place on your property and that you have a choice when it comes to hiring a Fence Contractor in Missouri.
Composite Fencing in Missouri
We guarantee 100% customer satisfaction on every fence installation, and your project will be done to the very best of our ability.
If you'd like to get a Free Quote on a new fence or new siding today, please give our friendly Fence Contractor a call at 636-306-5100
We are standing by to speak with you, and we thank you for your business and trust in Fenton Fence & Siding Contractors.
Don't settle for less than the best when it comes to hiring a fence contractor to work on your property. Fenton Fence & Siding Contractors connects you with the best local fence builders in the area. Our crews have years of experience installing vinyl fencing all over Missouri. We love the Fenton area, and love working in St. Louis County. You'll see evidence of our high quality fencing work all over town, and our customer list is expanding. Whether you need to a new privacy fence, wood cedar fence, aluminum fence or any other type, we can handle the job for you. We install fencing according to all local codes and ordinances, and we permit every project ensuring your project is done right an in accordance with the law.
Fencing Near Me
If you're looking for a professional crew to build your fence the right way, Fenton Fence & Siding Contractors is here to help you. Give us a call today for a Free Quote on your new fence. Call during normal business hours at 636-306-5100, or fill out the Free Quote form on this website and we'll get back in touch next time we're in the office.
Thanks so much for your interest in Fenton Fence & Siding Contractors!