Staining & Sealing Services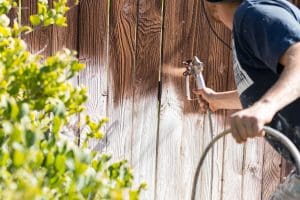 Staining & Sealing for Wood Fences
Contact Fenton Fence & Siding Contractors for professional staining and sealing services for your wood fence or wooden deck. Staining and sealing services are ideal for clients and customers who have a wood structure that needs a little TLC.
As your wood is exposed to the weather, even weather treated lumber will show signs of age after a few years. Wood exposed to moisture, changing temperatures, and UV light will become gray and faded over time. As your boards fade, they can crack and bend. It's important you take care of your wooden fencing or deck with proper care and maintenance. Staining and sealing will breathe new life into your old wooden fence.
Wood Fence Restoration in Fenton
Staining is the process of applying color coating to your fence. Stain is designed to enhance the natural beauty present in the wood. Our fence staining comes in a variety of colors and styles, and your fence contractor will allow you to pick the right look for your yard.
Sealing involves adding a protective coating to your wood product to add an extra layer of protection against moisture, UV rays, and it also helps keep pests away. Your staining and sealing treatment will last several years, and will make your old fence or deck look like brand new again.
If you'd like to investigate getting your wooden fence or wooden deck stained and sealed by Fenton Fence & Siding Contractors, please contact us at 636-306-5100
Quotes are always free of charge, and we appreciate your business!