Chain Link Fence Contractor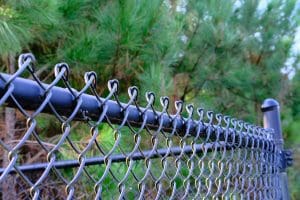 Chain Link Fencing Installed in Fenton
Chain link fences are a great option for customers seeking to secure an area for children or pets at a more affordable price. Our chain link is weather treated, galvanized, and a great option for customers seeking an affordable fencing option that will stand up against the unpredictable Missouri weather.
Fenton Fence & Siding Contractors will make quick work of your chain link fence installation. We are bonded and insured fence contractors who take pride in using only the highest quality fencing products and materials, and all our products come backed by a manufacturers warranty.
Weather Treated Chain Link Fences
We have three options available for chain link fencing - your standard silver, galvanized chain link, or vinyl wrapped chain link fencing that comes in green or black color options. Vinyl wrapped chain link provides added protection against the weather due to the plastic coating over the metal, and customers like the look the colored chain link adds to their property.
Chain link is a great fencing option for both residential and commercial application, and is a very popular option for Dog Run Fences. Secure your backyard, or add security to your business with attractive chain link fencing installed by Fenton Fence & Siding Contractors.
If you'd like to get a quote on a new chain link fence today, or if you'd like to speak with someone about siding replacement or siding repair, contact us for a Free Estimate at 636-306-5100