Cedar Privacy Fences Installed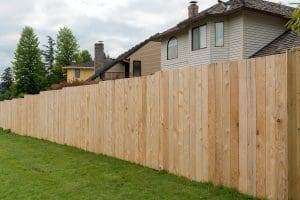 Wood Privacy Fences Installed in Fenton
Cedar Privacy Fencing is a very popular fencing option for customers in and around the St. Louis area. Cedar fences are attractive, sturdy, and last for many years before they need to be replaced. Cedar fencing provides great security and peace of mind. Your children and pets will be kept safe, and potential burglars will be deterred by your study wooden fence.
We offer a variety of styles and sizes when it comes to your new wooden privacy fence. Fenton Fence & Siding Contractors can build a 6', 8', or 10' tall privacy fence for you. If local codes allow it, we can install a horizontal privacy fence on your property. We also offer Staining & Sealing services for customers seeking maintenance on their existing wood fence, as well as swimming pool fence installation.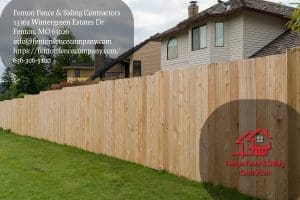 Cedar Fence Contractor in Missouri
At Fenton Fence & Siding Contractors, we know you have a choice when it comes to selecting a fence contractor to build your new privacy fence for you. We appreciate that you've taken the time to investigate hiring us for your installation, and we hope you'll let us earn your trust and your repeat business.
Customers who have worked with us in the past are happy to provide references for our good work, and our contractors are friendly, reliable, and easy to work with. We will build your new fence for you, clean up when we're done, and if there are any problems along the way we will take care of them - we promise. Please Contact Us for service today!
Customer satisfaction is 100% guaranteed! Contact us today for a New wooden privacy fence installed by Fenton Fence & Siding Contractors. Call 636-306-5100